About Dale Cook Backhoe Service, Inc.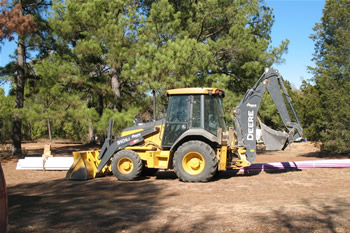 Dale Cook Backhoe Service, Inc. is a family-owned and operated business established in 1983.
We have been doing backhoe work in Bastrop and surrounding counties for the past 27 years and have earned a reputation for quality, honesty and integrity. Our company and employees strive to meet the highest level of customer service and satisfaction.
Dale is a Texas State Licensed Site Evaluator (OS0009642) and Texas State Licensed Septic Installer II (OS0017962). DCBS, Inc. is fully insured and will be happy to provide a certificate of insurance upon request.
DCBS, Inc. specializes in the designing and installation of on-site sewage facilities utilizing both Standard Disposal Systems (conventional absorptive drainfield and Non-Standard Disposal Systems (alternative) professionally designed systems) for residential and commercial structures.
---

We work with you or your contractor from start to finish to save you money by installing the correct system for your needs and to insure that all of your questions are answered and everything prior, during and after the work is completed goes smoothly.